Embroidery Digitizing

In this era of competition we believe that "Honesty and Excellency in work is the only key to Success". We are committed to provide optimum quality of embroidery digitizing/punching and vector-art(screen-printing) graphic file. We leave no stone un-turned to make sure you will get the real touch & feel of the Image in embroidery output with as minimum as possible color changes with limited thread breakage to save your precious time and tie-off where necessary.
We do not use any kind of auto digitizing software, all our designs are digitized manually by our highly experienced(min 10-15 years) digitizers to make sure your final output will definitely convert your one time customer into a regular one. High quality is our primary motto while providing due respect to the clients interest. We do our best to provide you the most competitive and reasonable price without compromising the quality .
We work with all the most common formats in all versions of Wilcom, Wings, Pulse, Ethos Melco and Compucon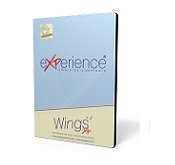 3D - Puff Embroidery Digitizing

We are expert in 3-D puff embroidery digitizing which is also known as raised embroidery. It is very important to choose a suitable foam material for your job. Remember that the excess foam has to be removed after the stitch-out. If the foam is too stiff and strong, it can be difficult to remove and you can even damage the embroidery. Choose a foam whose color is as close to the embroidery thread color as possible, or at least not contrasting. Also consider whether the foam is washable. Most 3D Foam embroidery is done on caps, as these are not washed very often.

To Start with 3-D puff design, check the embroidery digitized file and sew all the flat embroidery first, If the design is digitized as per the 3-D puff digitizing standards then the machine will stop after completing all the flat embroidery automatically. Place the puff over the area you want it and start the machine, It will sew a border around the area to mark the puff foam material, you can remove the excess which is coming out. Complete the embroidery and clean up the excess puff foam material.
Applique Embroidery Digitizing

We do applique embroidery digitizing as well. Applique can be described as a smaller piece of cloth applied to the garment surface through embroidery. To start with, first you have to hoop the garment/background fabric. Run the design and mark the area with a light thread which help you position applique pieces. sew them and cut the excess cloth which is coming out of your marking area one by one, then run the entire applique embroidery design.